Piper PA-28 flying lesson Aachen
4.8 (6)
Fly with an instructor and two passengers in the legendary Piper PA-28 Cherokee
Would you like to fly yourself in a Piper PA-28 Cherokee? You can! Book a flying lesson in this legendary four-seater aircraft. The Piper PA-28 is after the Cessna 172 the most sold small aircraft in the world. The big difference with the Cessna 172 is that the Piper is a low-decker; the wings are on the bottom. More than 32,500 of these aircraft have been built and the aircraft is still in production. The Piper PA-28 Cherokee was marketed with all kinds of different engines and configurations. The aircraft is therefore known under many names. The variant you will fly is the PA-28-161, the Piper PA-28 Warrior / Cadet.
Location
To be able to fly in a Piper PA-28 a small drive across the border is necessary. The flying school is located at the airport of Aachen-Merzbrück. This is located against Aachen (Aachen) in Germany. Aachen is just across the border at less than 10km distance from Kerkrade. Aachen-Merzbrück is a nice small airport with several flying clubs and a nice restaurant (Albatros). Throughout the day there is a lot of activity to see from the various flight schools and clubs.
The time has come!
From the flight school you have a great view of the runway. Enjoy all the hustle and bustle of the airport. This will get you all in the mood!
Theory
You start with an explanation of the basics of flying. The instructor will answer important questions in this 'briefing'. How does an airplane stay in the air? How do the pedals work? What are all the buttons and gauges for? Of course you can also ask all your questions. Are you coming to the flight school together with your partner, friend and/or family member? Then he/she is also allowed to be present. Then you all know what you will experience in the air. You do not have to pay extra for this. Of course, this also applies to the passengers. 
The theory part always takes about 20 minutes, regardless of the time you choose for the practical part.
Practice
After the theory part you go with the instructor to the plane. First you check together whether the aircraft is ready for departure. Then you drive to the runway, this is called taxiing. Through the headphones you can hear the instructor and the control tower. The instructor asks permission from the control tower to take off. And then the time has come! In the air you can fly the plane yourself. You get to fly everything yourself except the last part of the landing. Of course the instructor helps you with everything. He will take over if you want to look outside. Or if you want to make photos or a video.
How long the practical part takes you choose. The minimum is 20 minutes, but the longer, the more fun of course!
Specifications
Spoken languages
This experience is available in these languages.
Persons
1 - 3
Season

All year

Only available during in its season. Please check the validity of your voucher.
Age
From 14 on
Min. height
1.45 m
Minimum height of the participant
Max. length
1.95 m
Maximum height of the participant
Max. weight
240 kg
Maximum total weight of student and passengers, excluding the instrutor.
Participation
Flying lesson
How you participate: is it a flying lesson or do you fly along.
Time
Block Time
Indicates whether the time periods listed are block times or flight times. Flight time is the time in the air. Block time means from engine on to engine off, thus including taxiing.
Valid for
2 years
How long the voucher is valid after issue. Dit geldt alleen voor nieuwe bonnen.
Compare
Remarks
The Piper PA-28 is a four-person aircraft. So in addition to the student you can take one or two passengers
You may bring your own GoPro or film yourself. The unit has an attachment point for your GoPro. There is no option to purchase a movie recording with your flight
The prices are the total for the plane, including any passengers. You are the only ones on board

Lessons are flown between 9.00 and 18.00 hours
In summer we fly until 20.30 hours
Count on about 40 minutes extra for theory, preparation, etc.
There will only be flown during daylight, with sufficient visibility and when the wind is not too strong
Call the day before your lesson if the weather is good enough to fly. You will receive the phone number with your reservation
The lesson can be given in German and English.
Identification is required; please bring your ID card, passport or driver's license
Click on the name to see how far you can fly in:
20 minutes
30 minutes
45 minutes
60 minutes
Reviews
| | | |
| --- | --- | --- |
| 5 stars | | 5 |
| 4 stars | | 1 |
| 3 stars | | 0 |
| 2 stars | | 0 |
| 1 star | | 0 |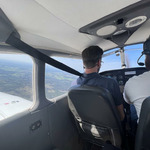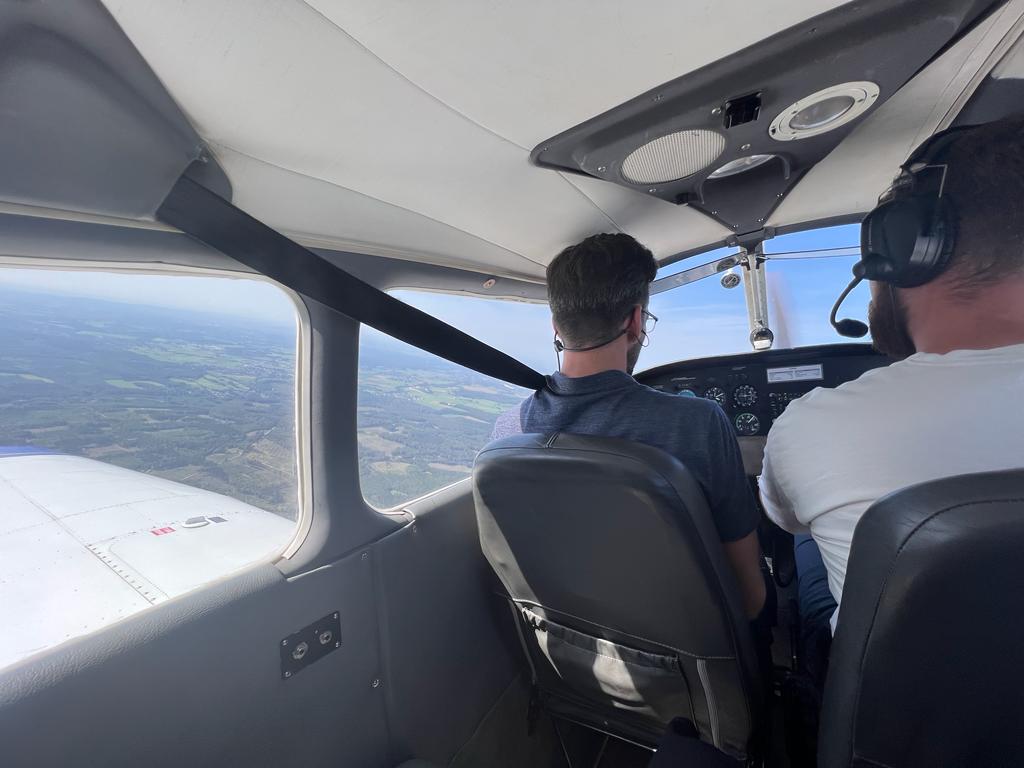 Douwe
Eindhoven
· September 2023
Een prachtige ervaring onder begeleiding van een vriendelijke en enthousiaste instructeur!
Passagiers mee, zelf vliegen, veel kunnen vragen

-
A wonderful experience under the guidance of a friendly and enthusiastic instructor!
Passengers along, flying yourself, being able to ask a lot

-.
Translated from dutch.
View original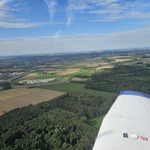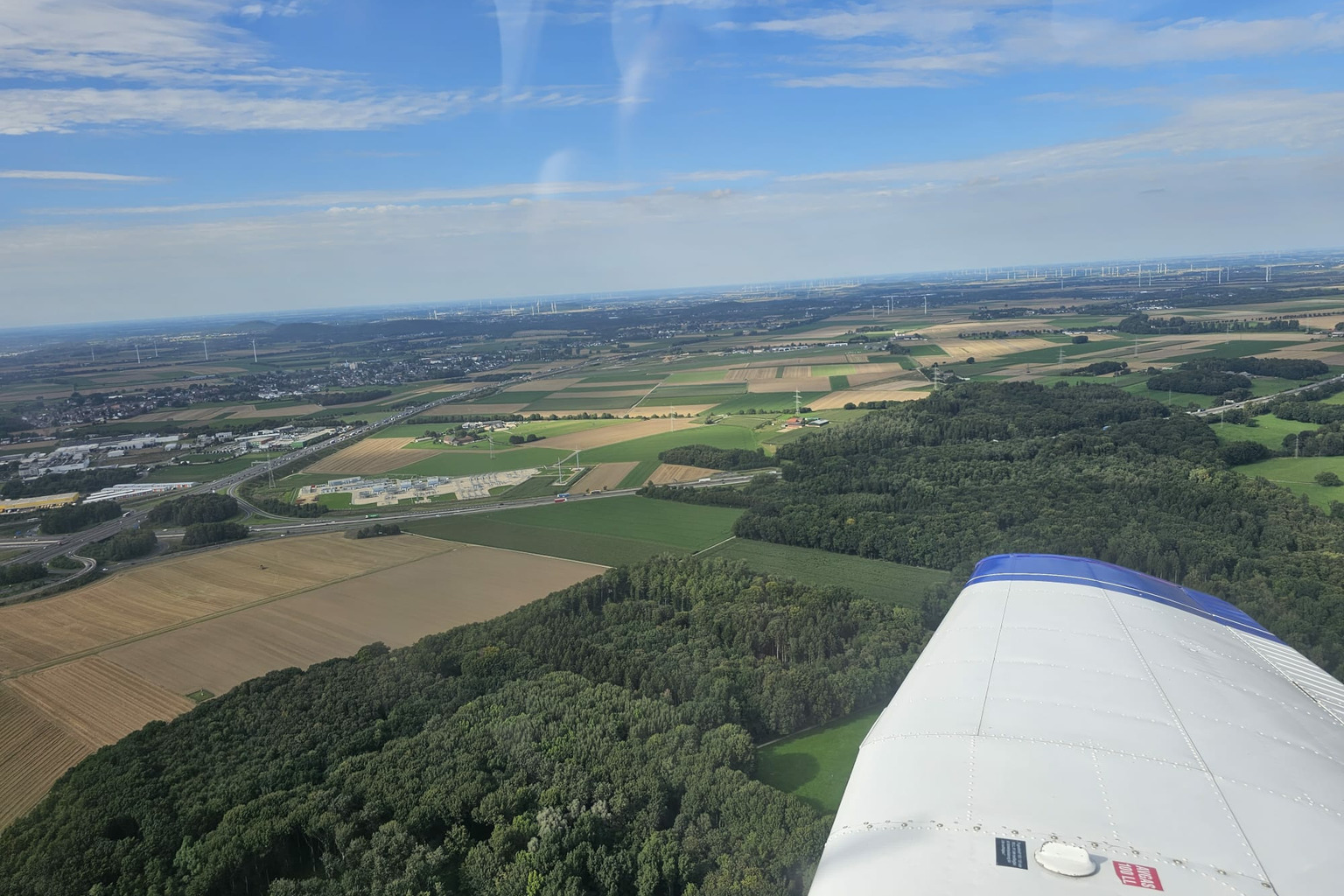 Anoniem
Anoniem
· August 2023
De ervaring was geweldig.. om dit te doen en te zien van bovenaf is zo'n mooie ervaring
Zelf vliegen, voelen hoe dat is.
Fijne piloot en er werd meteen mee gedacht aan de kussentjes zodat de kinderen achterin ook wat hoger zaten.

Erg lang gewacht
16:00 de afspraak en 16:30 iemand zien aankomen lopen.
Er zou vooraf theorie zijn maar die is niet geweest behalve dat de piloot korte dingen vertelde voor dat ze opstegen.
Het wordt gebracht alsof je eerst 20 min theorie krijgt en dan de vlucht hebt. Dit was helemaal niet.

En 30 min vliegen incl. Opstijgen en landen.ja oke maar als je bijna 10 min staat te wachten alvorens je gaat opstijgen en dat tellen ze in de tijd mee is het jammer. De vlucht was net 20 min terwijl we 30 min hadden geboekt.
The experience was great.
To do this and see it from above is such a beautiful experience

To fly yourself, feel what that's like.
Fine pilot and they immediately thought about the cushions so that the children in the back also sat a bit higher.|Very long wait
16:00 the appointment and 16:30 seeing someone arrive.
There was supposed to be theory beforehand but there wasn't except for the pilot telling brief things before take-off.
It is brought as if you get 20 min of theory first and then have the flight. This was not at all.

And 30 min flight incl take-off and landing.yes okay but when you are waiting for almost 10 min before take-off and they count that in the time it is a shame. The flight was just 20 min while we had booked 30 min.
Translated from dutch.
View original
Eveline from Flyouts.com:
Vervelend om te horen dat het theoriegedeelte te kort is geweest. We gaan dit met de instructeur bespreken. Waarschijnlijk is dit het gevolg geweest van drukte op dat moment, waarvoor excuses.

De tijd op de website is bloktijd; dat is van motor aan/motor uit. 30 minuten is wat aan de korte kant, vandaar dat we altijd adviseren een wat langere vlucht te boeken.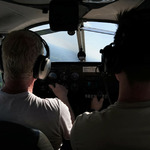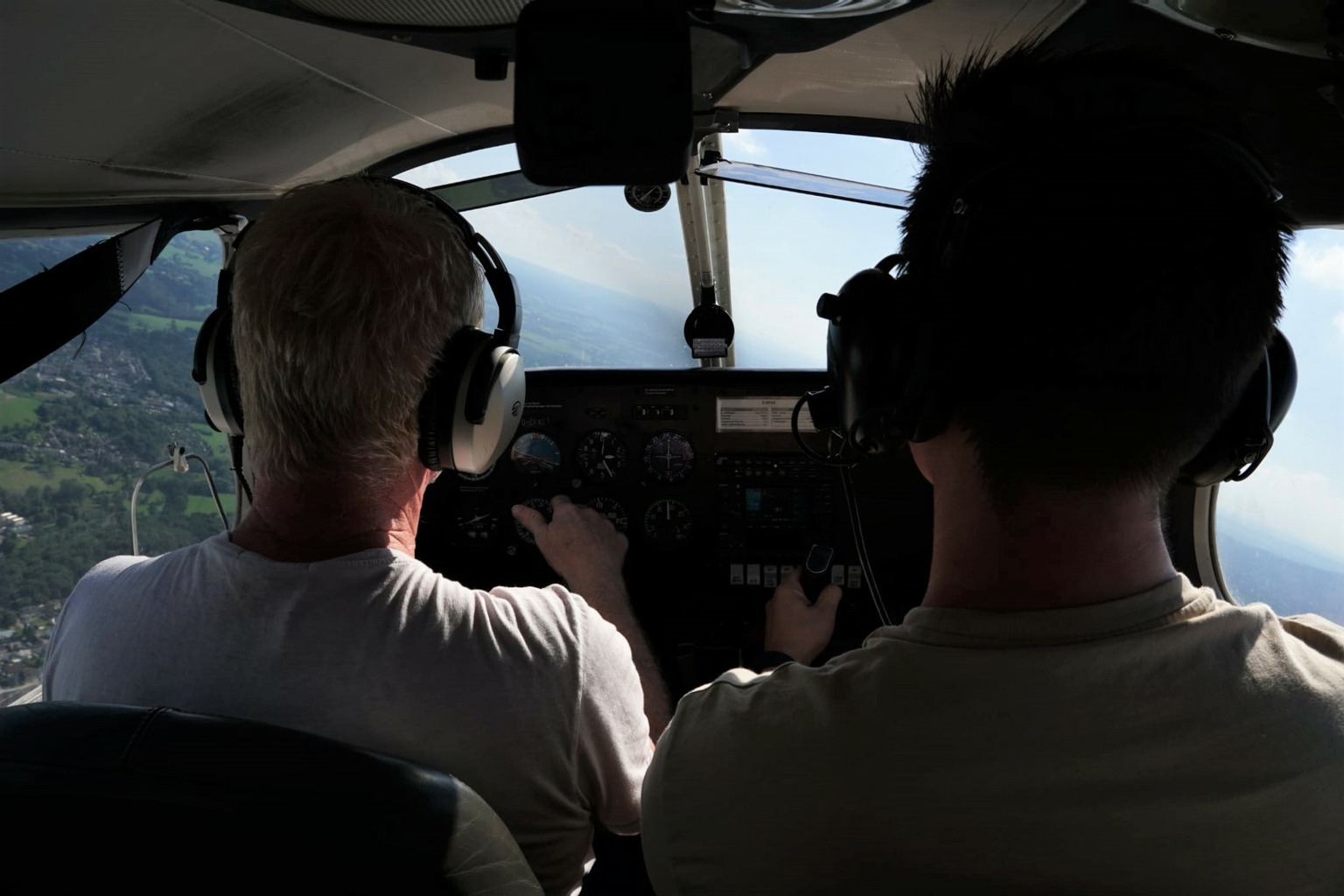 Esther
Eindhoven
· August 2023
Supergave ervaring! Ik heb dit als cadeau aan mijn vriend gegeven en hij vond het fantastisch. Hij heeft veel (vrijwel alles) zelf mogen sturen, ook bij het opstijgen en landen. Wij hadden voor 30 minuten gekozen, en dat was prima. 20 minuten lijkt me wel wat kort.Veel zelf mogen vliegen, vriendelijk personeel, fijne sfeer, er mogen 2 passagiers mee
Veel zelf mogen vliegen, vriendelijk personeel, fijne sfeer, er mogen 2 passagiers mee

Nvt
Super cool experience! I gave this as a gift to my boyfriend and he loved it. He got to steer a lot (almost everything) himself, including take-off and landing. We had opted for 30 minutes, which was fine. 20 minutes does seem a bit short to me.Lots of self flying, friendly staff, nice atmosphere, 2 passengers are allowed
Lots of self flying, friendly staff, nice atmosphere, 2 passengers are allowed

Note
Translated from dutch.
View original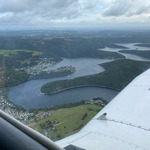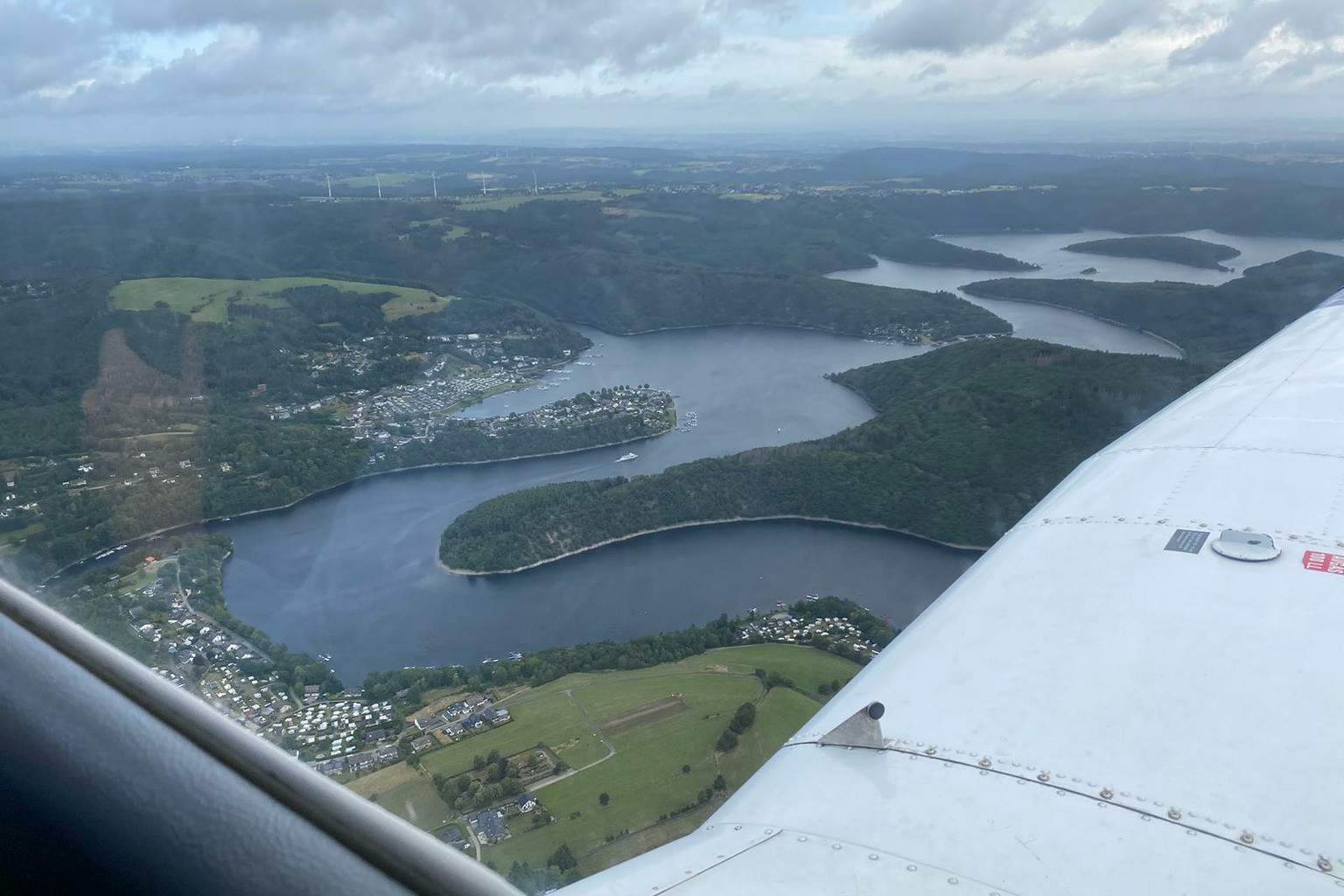 Miranca Wintgens
Cadier en Keer
· July 2023
Translated from dutch.
View original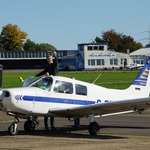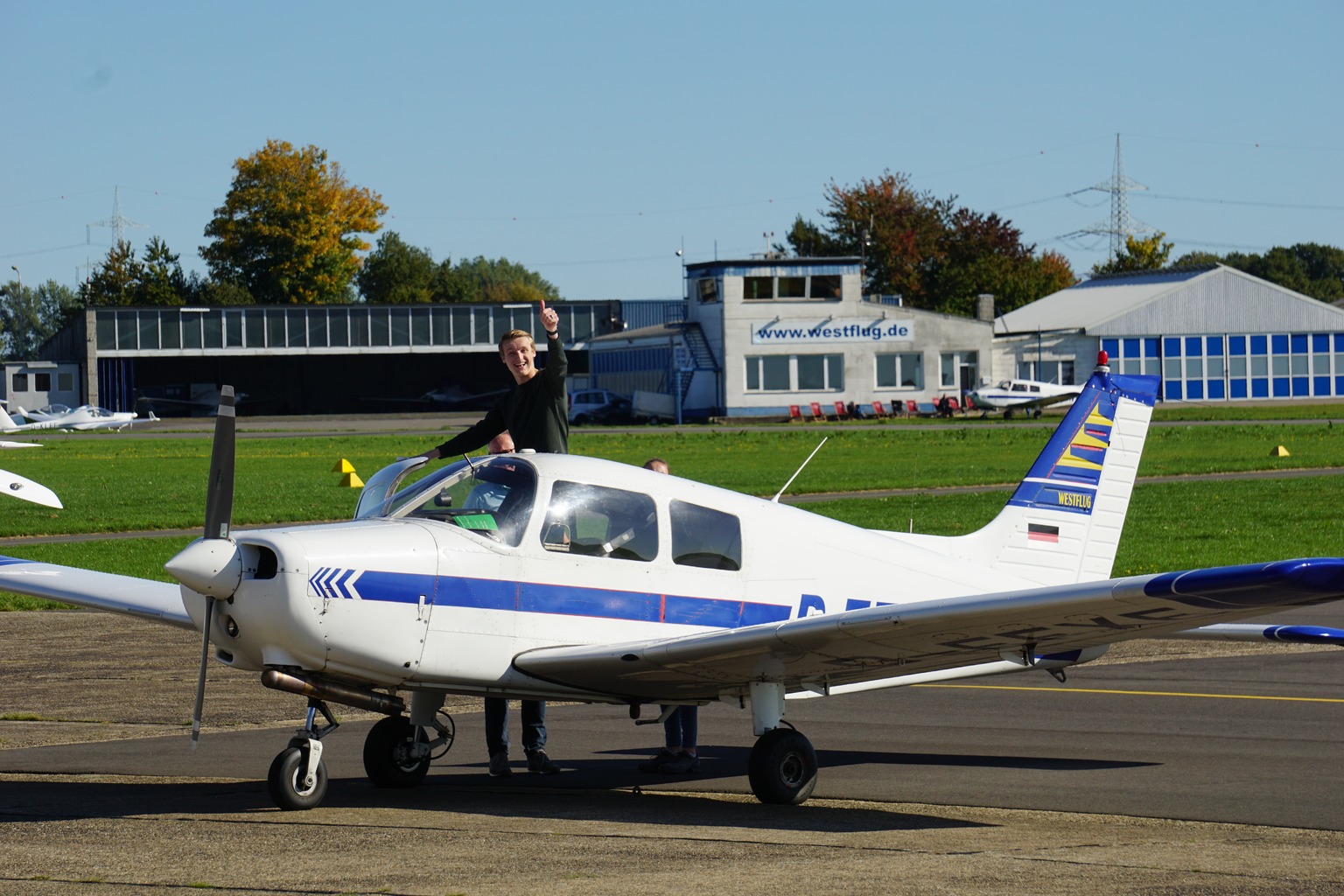 Hans
Aarle-Rixtel
· October 2022
Prachtige en leerzame middag. Bijzondere ervaring voor het hele gezin geweest onder deskundige en enthousiaste begeleiding. Gekozen voor vliegveld Aken en dat was een schot in de roos.
De vliegschool was actief meedenkend in het plannen van onze vlieglessen. Zonder probleem konden we een keer herplannen omdat het weer niet zo mooi was op dat moment. Eenmaal in de lucht mochten we heel veel zelf vliegen.

Geen enkele.
Wonderful and informative afternoon. Special experience for the whole family under expert and enthusiastic guidance. Chosen Aachen airport and that was a hit.
The flight school was actively involved in planning our flying lessons. Without any problem we were able to reschedule once because the weather was not so nice at the time. Once in the air, we were allowed to fly a lot ourselves.

No one.
Translated from dutch.
View original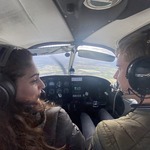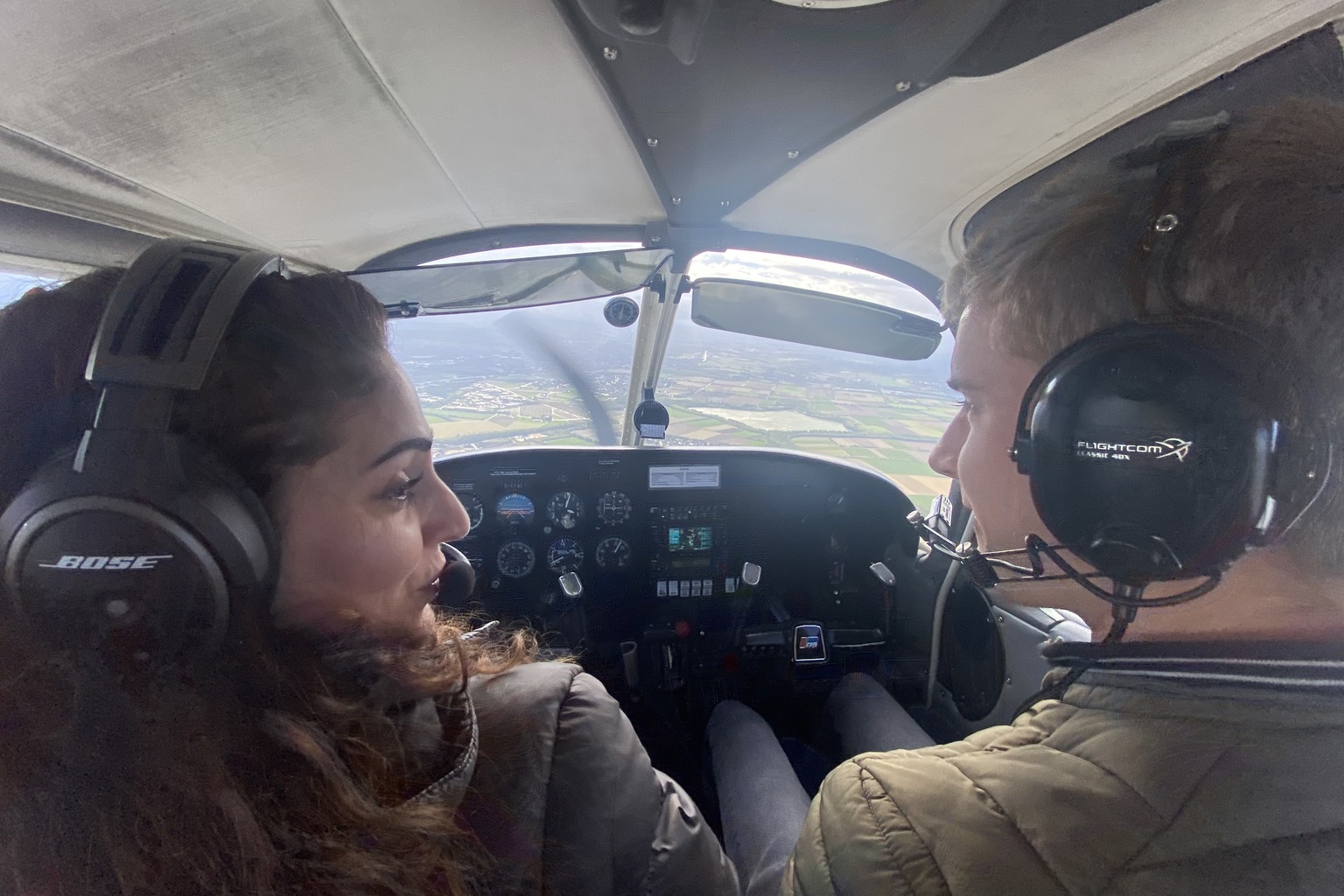 Michel
Heerlen
· September 2022
Erg kundige en ervaren docent die goed uitleg gaf, mooie locatie om overheen te vliegen, zelf veel mogen vliegen. Super ervaring
Docent

Voor de start flinke regenbui, dus even moeten wachten met opstijgen, maar dat is overmacht
Very knowledgeable and experienced instructor who gave good explanations, beautiful location to fly over, got to fly a lot myself. Super experience
Teacher

Before take-off, heavy rain shower, so had to wait a while for take-off, but that's force majeure
Translated from dutch.
View original
4.8 (6)
Fly with an instructor and two passengers in the legendary Piper PA-28 Cherokee
No experience needed

29,017 bought

Specialist in flying lessons

English speaking instructors