5.0 (1)
Skydive above Spa, Belgium with a tandem master. Height of 4 kilometers, with free fall!
A tandem jump is the way to get acquainted with skydiving. Together with an instructor, you jump from a plane at an altitude of 4 km (13,000 feet).
Location
You will jump from Aérodrome de Spa La Sauvenière, in the Belgian town of Spa. The airport offers various forms of aviation, there is always a lot to see and do.
Are you ready to make the jump?
A parachute jump can be compared to nothing else. It is an unforgettable, sensational experience that you must have. Almost all daredevils have it on their wish list. When you arrive at the airport, you are immediately in the mood. There is always plenty of activity and you can enjoy all kinds of planes that are constantly flying off and on. Of course, you will also see many skydivers; you can admire their entire jump from beginning to end. This will make you even more eager to make your own jump!
Theory
You will jump together with an experienced instructor, also known as a tandem master. This means that you don't need to have any skydiving experience yourself. You will receive a clear explanation before the jump, so that you know exactly what is expected of you. Everything is, of course, focussed on safety. You will be given an overall and harness. And a very cool pair of glasses. Otherwise, you won't be able to see anything because of the wind in your eyes.
Practice
Once everything has been checked, you get on the plane and climb to an altitude of over 4 km. From there, you have a wonderful view. You will be attached to the instructor and ready for the jump. The jump starts with a free fall. You will reach a speed of 200 km/h. This takes about 45 seconds and then the large parachute opens. You will slowly float down on the parachute. Enjoy the view and listen to the sounds on the ground. It is a surreal experience. You make a perfect landing under the watchful eye of your family and friends.
For whom
You do not need any experience for the tandem jump. You jump together with an experienced instructor (the tandem master). He or she has made thousands of jumps and keeps everything under control. For safety reasons there are some requirements regarding age, health and body type. You can find these under the headings specifications and remarks at the bottom of this page.
Jumping with your friends?
It is of course very cool to share this experience with friends or family. Usually you can jump together from the same plane. From Spa a maximum of 9 tandems can take off at the same time. The maximum number of tandems may be more or less on some days, depending on the availability of instructors and the aircraft used.
Specifications
Spoken languages
This experience is available in these languages.
Persons
1 - 4
Season

March to november

Only available during in its season. Please check the validity of your voucher.
Min. height
1.20 m
Minimum height of the participant
Max. weight
95 kg
Maximum weight of the student, including clothes. For safety.
Participation
Tandem jump
How you participate: is it a flying lesson or do you fly along.
Valid for
2 years
How long the voucher is valid after issue. Dit geldt alleen voor nieuwe bonnen.
Compare
Prices
1 person
€ 240
2 persons
€ 480
3 persons
€ 720
4 persons
€ 960
5 persons
€ 1,200
6 persons
€ 1,440
7 persons
€ 1,680
8 persons
€ 1,920
Cost Skydiving Spa
Remarks
Jumping is only possible in good weather conditions: sufficient visibility, the wind not too strong and dry.
There is a maximum weight of 95kg including clothing and shoes, as you enter the plane.
Depending on availability, video recordings can be purchased on location.
Under 18 written permission from both parents is required.
There is a minimum height of 120cm.
It is not necessary to undergo a medical examination as long as you have a "normal" physical condition. However, there are contraindications such as heart problems, circulatory disorders, epilepsy or pregnancy.
Before landing it is important that you can raise your knees to your chest.
Call the location on the day of your jump to find out if we can jump. You will receive the telephone number with your booking.
Depending on the weather conditions and the activity on the field, the agreed times can be a bit longer.
The total programme takes about 2 to 3 hours.
At four kilometres altitude it is cooler than on the ground. You are so full of adrenaline that you do not even notice it.
This experience is available in English, Dutch, German and French.
Location
Spa
Reviews
| | | |
| --- | --- | --- |
| 5 stars | | 1 |
| 4 stars | | 0 |
| 3 stars | | 0 |
| 2 stars | | 0 |
| 1 star | | 0 |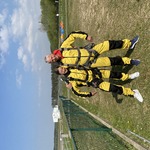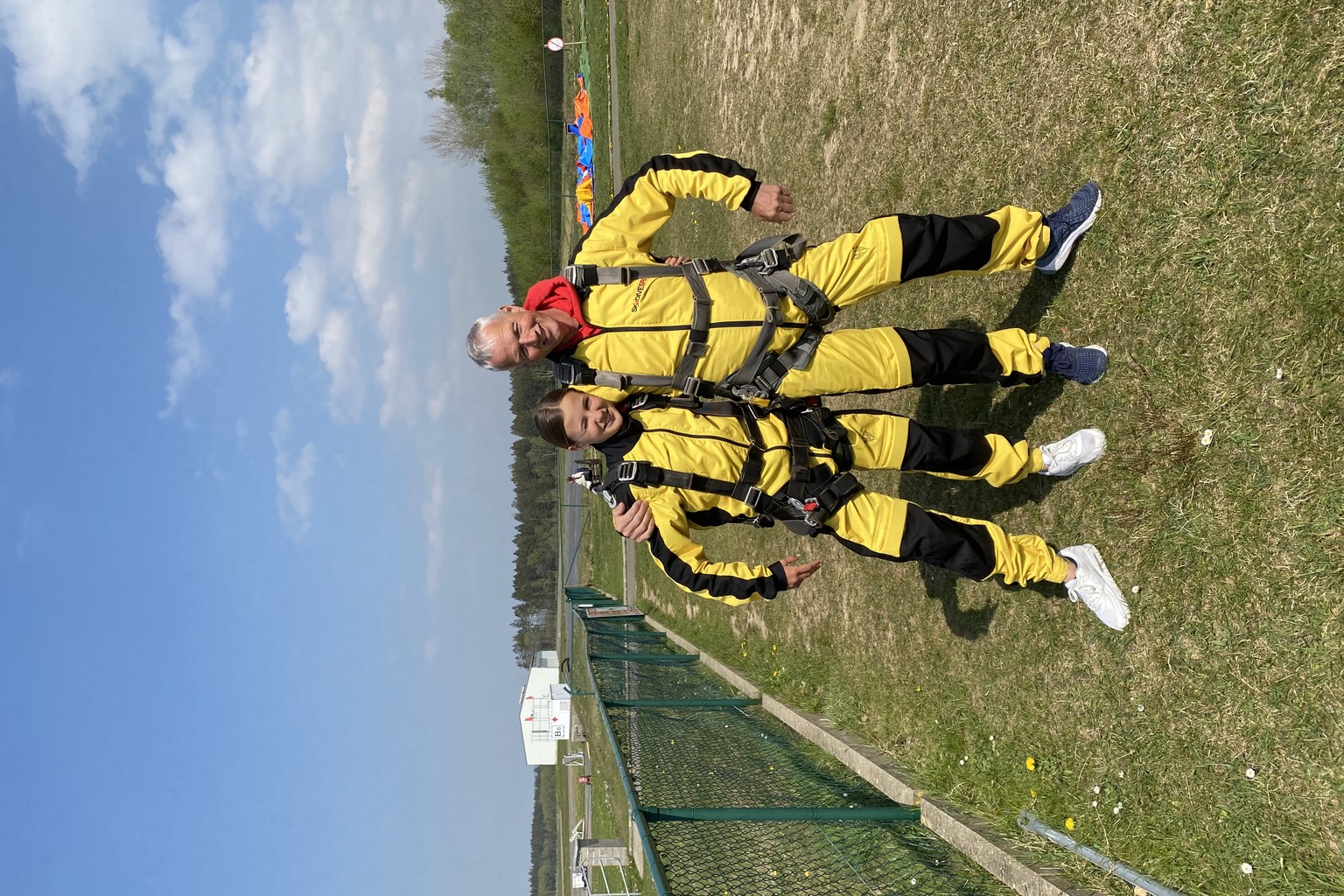 Jan
Ter Aar
· May 2022
Hele gave ervaring
Meer dan je voor kunt stellen
Hele mooie plaats om te springen
Gezellige sfeer en goede begeleiding

Communicatie of sprong wel of niet doorgaat
Very cool experience
More than you can imagine
Very nice place to jump
Cosy atmosphere and good guidance

Communication whether or not to jump
Translated from dutch.
View original
5.0 (1)
Skydive above Spa, Belgium with a tandem master. Height of 4 kilometers, with free fall!
No experience needed

27,027 bought

Specialist in flying lessons

English speaking instructors