4.9 (48)
Jump together with an instructor with a free fall. From 9000 or 13000 feet height.
A tandem jump is the way to get acquainted with parachuting (skydiving). You jump out of an airplane with an instructor from a height of 3 km (9,000 feet).
Location
Parachuting in Zeeland takes place from Airport Midden-Zeeland in Arnemuiden. This is a regional airport with a grass runway. There is a restaurant with a view of the runway. When you arrive at the airport you are immediately in the mood. There is always plenty of activity and you can enjoy all kinds of planes that are constantly taking off and landing. In addition, you will of course see many skydivers, you can admire their entire jump from start to finish. This way you will get even more excited about your own jump!
Do you dare?
A parachute jump cannot be compared to anything else. It is an unforgettable, sensational experience. You must do this at least once in your life. Almost all daredevils have it on their bucket list. It is very special to see Zeeland approaching at 200 kilometers per hour.
Theory
You jump together with an experienced instructor, also known as a tandem master. This means you don't have to have a skydive experience yourself. You get a clear explanation before the jump, so you know exactly what is expected of you. Everything is of course all about safety. You get to wear an overall and a harness. And wearing very trendy glasses. Otherwise you will not see anything because of the wind in your eyes.
The jump
When everything is checked, you get on the plane and climb to a height of 3 kilometers. From there you have a beautiful view. You will be attached to the instructor and prepare for the jump. The jump starts with a free fall. You thereby achieve speeds of up to 200 km / h. This takes about half a minute and then the large parachute opens. You float down slowly below the parachute. Enjoy the view and listen to the sounds on the ground. It is a surreal experience. You make the perfect landing under the watchful eye of your family and friends.
For whom
You do not need any experience for the tandem jump. You jump together with an experienced instructor (the tandem master). He or she has made thousands of jumps and keeps everything under control. There are a number of requirements regarding age, health and physique. These can be found under the headings specifications and remarks at the bottom of this page.
Jump together with your friends?
It is of course completely cool to share this experience with friends or family. You can usually jump together. From Zeeland 2 duos can jump out of the same airplane. Please note that the actual maximum may vary depending on the aircraft in use and availability of instructors.
Specifications
Persons
1 - 2
Season

All year

Only available during in its season. Please check the validity of your voucher.
Age
Min. 8 years
Min. height
1.20 m
Minimum height of the participant
Max. weight
105 kg
Maximum weight of the student, including clothes. For safety.
Participation
Tandem jump
How you participate: is it a flying lesson or do you fly along.
Valid for
2 year
How long the voucher is valid after issue. Dit geldt alleen voor nieuwe bonnen.
Compare
Prices
1 person
€ 209
2 persons
€ 409
3 persons
€ 609
4 persons
€ 809
5 persons
€ 1,009
6 persons
€ 1,209
7 persons
€ 1,409
8 persons
€ 1,609
Cost Skydive Zeeland
Remarks
Jumping is only possible in good weather conditions: sufficient visibility, the wind not too strong and dry.
On the day of your jump, call the location to see if we can jump. You will receive the phone number with your reservation
Depending on the weather conditions and the crowds on the field, the agreed times can be a bit longer.
Total program takes about 2 hours
At three kilometers altitude it is cooler than on the ground. You're so full of adrenaline that you do not even notice it
This experience can also be followed in English
There is no maximum age, as long as you have a reasonable condition and meet the other requirements, you can jump far beyond the retirement age.
Before landing it is important that you can pull your knees up to your chest.
Skydiving during pregnancy is not recommended
Under 18 years of age, written permission from one of the parents is required
You can also have this unique experience filmed. These images are made with a camera on the hand of the instructor. The preparation, the flight up and the jump are recorded. You will be emailed a link to download the footage afterwards. During the preparation on the ground and in the plane, the instructor can film two pairs. In the air, he can only focus on one person.
Availability
Click on a day to check availability
Location
Zeeland
Reviews
| | | |
| --- | --- | --- |
| 5 stars | | 46 |
| 4 stars | | 1 |
| 3 stars | | 1 |
| 2 stars | | 0 |
| 1 star | | 0 |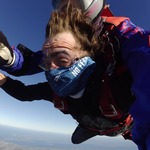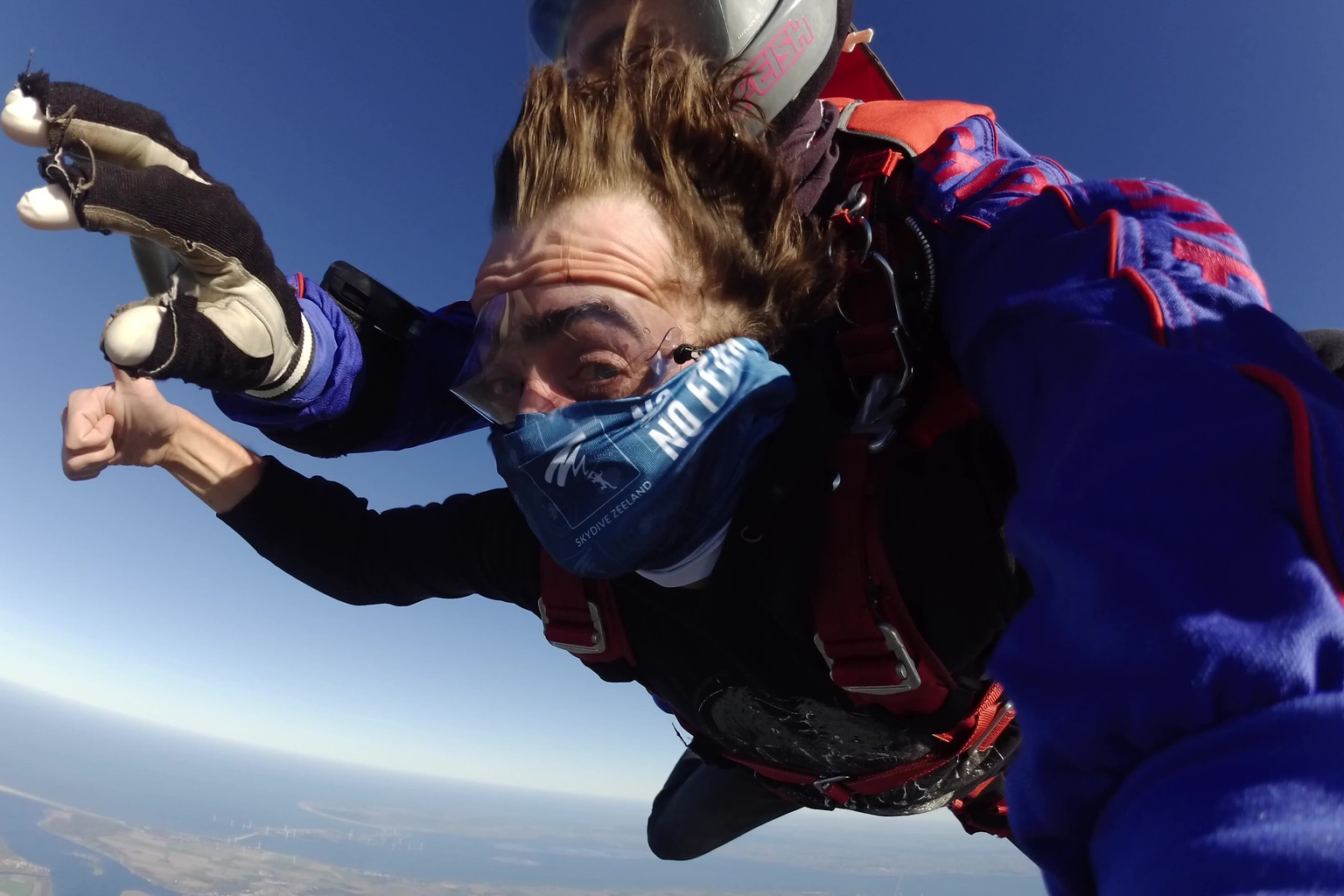 Maikel
Nieuw-vennep
· October 2021
Het was echt een kick om te doen.
Dat is veel vaker voor herhaling vatbaar.
De Vlucht tot de vrijeval.
en het uitzicht.
· September 2021
Grandioos! Heerlijke vlucht gehad., genoten
Leuke instructeur, hele ervaring

Consumptie mogelijkheid.
Jammer dat familie/kijkers niet dichterbij kunnen komen
· September 2021
Het was geweldig, unieke ervaring!
Toffe instructeur, gewoon topervaring!

Supporters hadden het leuk gevonden om dichter bij de landingsspot te kunnen zijn.
Jan Karel van Gent (57)
Zeist
· August 2021
Goed georganiseerde activiteit met als resultaat voor mij een mooie sprong.
De vrije val geeft natuurlijk een kick. Het vervolg met het openen van de parachute is echter ook een mooie ervaring. Goed gedaan Helder Soussa.

Mogelijk meer uitgebreide catering ?
Bij wachttijden fijn.
· August 2021
Het was super, we gaan
Het nog 1x doen.
· July 2021
Mijn meisjes zijn goed en super gezellig begeleidt.
Als moeder werd ik er ook leuk bij betrokken
Super gezellig team en het lijkt/is veilig

Geen