Glider flying day course Terlet
Terlet
5.0 (4)
Learn the basics of glider flying in this one day course.
Introduction
Learn the basics of gliding with this one-day course. During this introduction day you will fly 3 times under the guidance of an experienced instructor.
What will you do?
Your day starts in the morning with the briefing. This is how the gliding company always starts. The weather conditions, flight planning and all other relevant things for the day are discussed. Then you will get a short theory lesson from an instructor. You discuss the programme for the day and get ready for the inspection of the aircraft. You help with the preparations for the flight day.
After the inspection you get into the plane together and your first take-off starts. With a winch you will be pulled up far above the landscape. With your hands loosely on the control stick and your feet on the pedals, you will feel what the instructor is doing. From there, the difficulty is built up step by step. You will be flying more and more yourself. Of course, everything goes at a pace that you feel comfortable with. It is very quiet in a glider, so you can hear the instructor well while he tells you more about flying and the environment.
Between flights, there is plenty of time for all your questions. Before each flight there is a briefing and after each flight a debriefing. In addition, you will discover the club life of the gliding club and find out if this world is something for you. Who knows, this might be a nice step towards a multi-day course or even the complete training to become a glider pilot?
At the end of the afternoon your day is over. With the instructor you discuss the day and there is ample opportunity to ask all your questions. If you like, you can stay and chat with the rest of the crew afterwards. It's pleasant and you will notice that there is always an abundance of good stories.
Location
The course will be given at the airfield of Terlet, near Arnhem. On Terlet you will find the national gliding centre, where several gliding clubs are active. Terlet is a popular field for glider pilots from all over the country and even beyond. Location Terlet is situated in the beautiful surroundings of the Veluwe, in heathland. The airfield has a nice restaurant with a view on the glider field. There is always a lot of activity and you can enjoy all the gliders that fly continuously to and fro. This makes you even more enthusiastic about your own flight.
During the course, you will not only discover how much fun it is to fly a glider yourself, but also how sociable the team is. You might not expect it, but gliding is a real team sport. You'll be surprised how many people are needed to make you glide. Apart from your instructor, you will need a tip runner, a cable runner and a winch runner to get your plane in the air and safely guide it back in.
Included

3 winchstarts with instructor
extensive support

Multi-day courses and the full training course
The courses are a good introduction to learning gliding. Multi-day courses and full training are also available. Here, the lessons count towards the hours required for your licence. You will then start working to get your LAPL(S); Light Aircraft Pilot Licence Sailplane. This allows you to fly solo in a glider. This allows you to fly in the whole of Europe. Would you like to know more about the multi-day courses or getting your LAPL(S)? Ask us about the possibilities.
Specifications
Persons
1
Season

April until september

Only available during in its season. Please check the validity of your voucher.
Age
Min. 14 years
Max. length
2.00 m
Maximum height of the participant
Max. weight
100 kg
Maximum weight of the student, including clothes. For safety.
Participation
Flying lesson
How you participate: is it a flying lesson or do you fly along.
Time
Flight Time
Indicates whether the time periods listed are block times or flight times. Flight time is the time in the air. Block time means from engine on to engine off, thus including taxiing.
Valid for
2 year
How long the voucher is valid after issue. Dit geldt alleen voor nieuwe bonnen.
Compare
Remarks
Gliding is seasonal and has limited capacity. So book well in advance
We can only fly when there is sufficient visibility and not too much wind
Call the planner the day before your lesson if we can fly safely. You will receive the number with your reservation
If the weather changes during the course day, you can complete the remaining flights at a later time
The voucher is not personal but once the course has started it is no longer possible to change students
The program starts at 9.15 am and lasts until approximately 5 pm
The course can also be given in English
Dogs are allowed on the premises, but must remain leashed
Availability
Click on a day to check availability
Reviews
| | | |
| --- | --- | --- |
| 5 stars | | 4 |
| 4 stars | | 0 |
| 3 stars | | 0 |
| 2 stars | | 0 |
| 1 star | | 0 |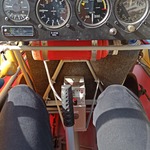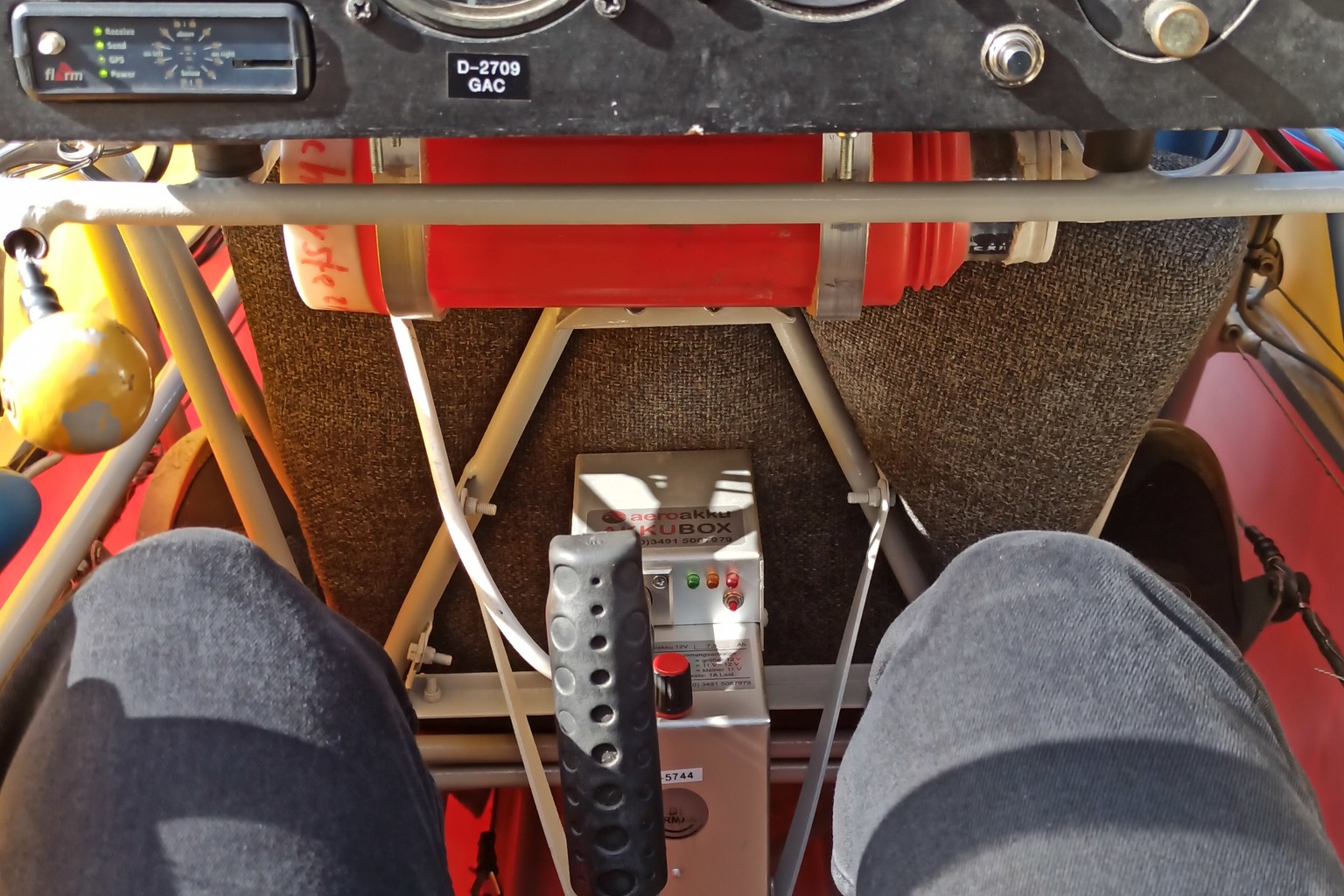 Ema
Leeuwarden
· May 2022
I loved it, it was quite an experience. I wish they are more close by my home so I can go more often
The email was full of the informations and good preparation

When I came, there was quite a lot of hangers and no sign of the club. So it took sometime to find them.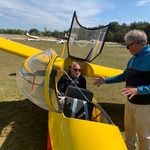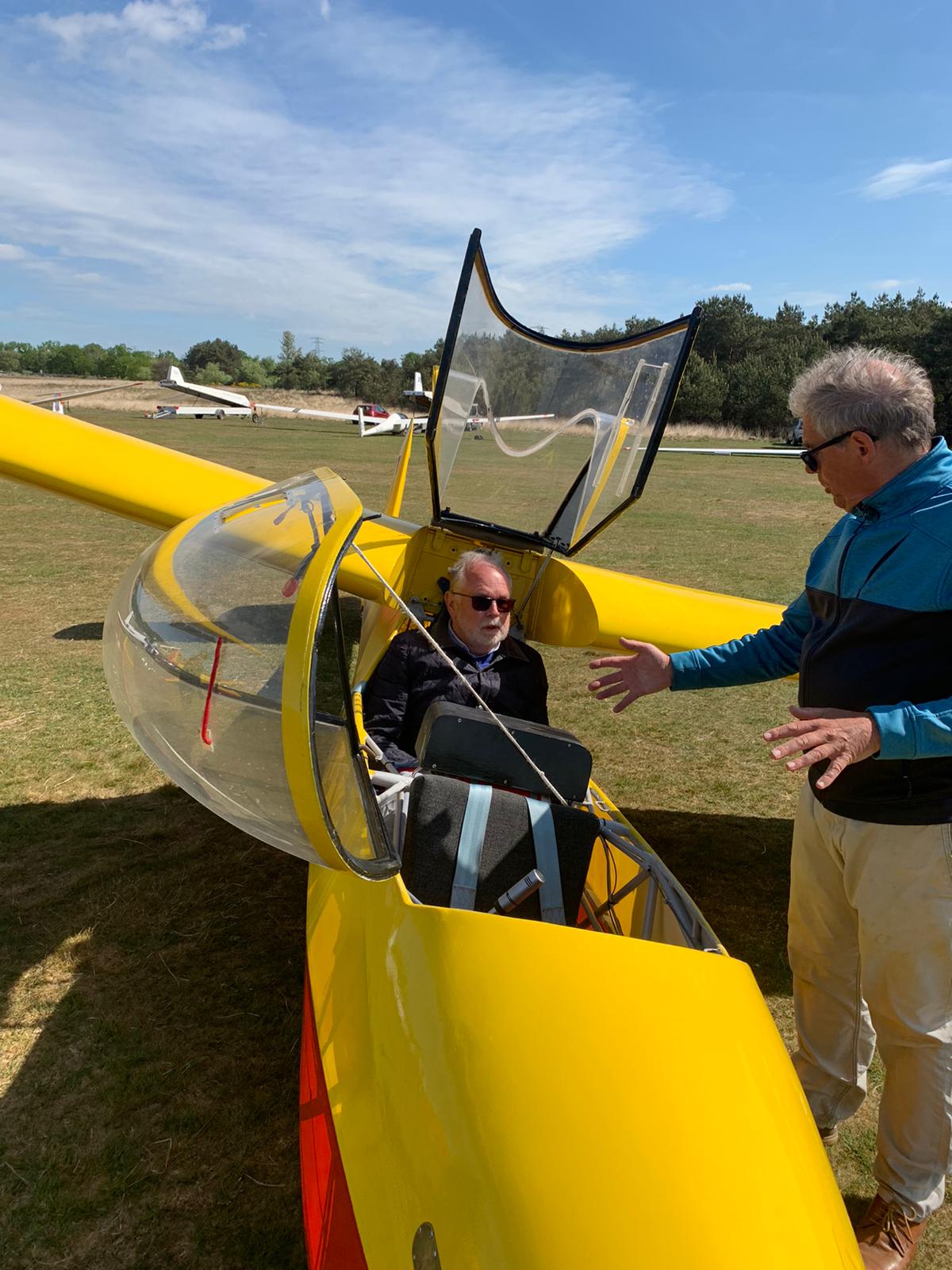 Patrick Jansen
Badhoevedorp
· May 2022
Fantastische dag, met een, ondanks de stevige wind en dankzij goede thermiek, perfect uitgevoerde vlucht over de Veluwe. Hulde voor de geweldige sfeer, de positieve uitstraling en de duidelijke uitleg.
Ontvangst, sfeer, professionele uitleg

Kan ze echt niet bedenken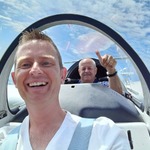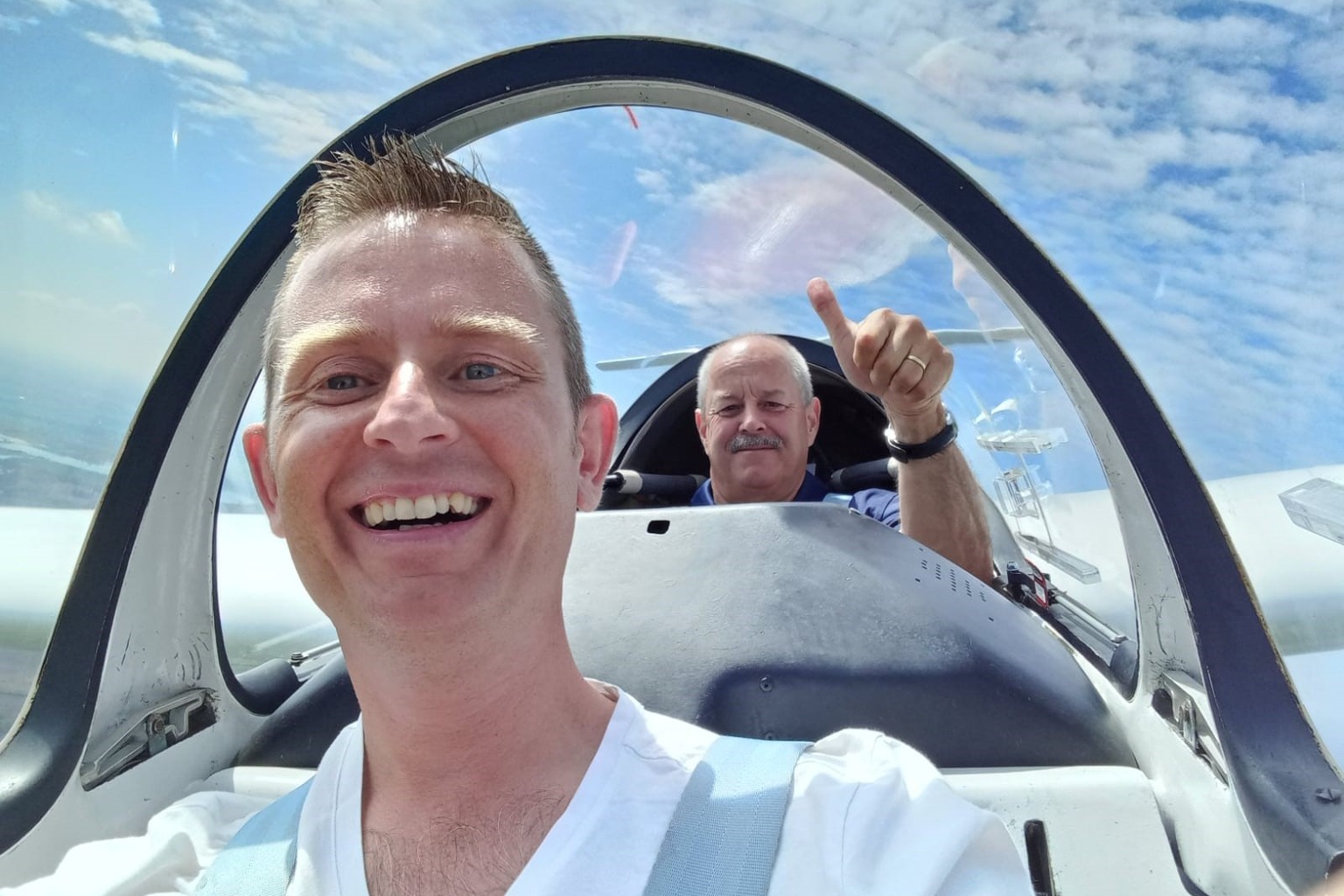 Fred Jonker
Nieuwerkerk aan den IJssel
· May 2022
Het was een geweldige dag; een geweldige ervaring, dankzij Ronald, onze piloot. De briefing vooraf deed hij op een hele rustige en deskundige manier, waarbij hij ons de hoofdpunten voor de veiligheid heeft bijgebracht aan de hand van 'skistok'. Ronald gaf ons de ruimte om ook zelf het zweefvliegtuig in de lucht te besturen, grandioos!
Naast wat hierboven al is verteld:
mijn zoon Gert, met wie ik dit event samen deed, vroeg aan Ronald of het mogelijk was om 'over de kop te gaan'. Dat was geen probleem. Piloot Maarten werd ingeschakeld en gaf Gert een spectaculaire 'over de kop vlucht', geweldig! Zeer bijzonder dat ook dat gewoon mogelijk bleek!!

Misschien heb ik niet goed opgelet bij het aanmelden, maar het zou wel erg fijn zijn als ook een vega-lunch kan worden aangeboden.
Foppe-Klaas Hovinga
Zutphen
· May 2022
Een prachtige belevenis om een dag dag mee te maken. Mooi om drie keer te vliegen. Daardoor zelf ook een beetje mogen ervaren hoe het is om te vliegen en de thermiek te gebruiken.
Gezellige ontspannen sfeer. Zelf mogen meedoen: vliegen en helpen. Er werd veel uitleg gegeven.

Geen. Neem zelf voldoende water mee. Je bent de hele dag buiten.