Glider flying day course Salland
4.8 (105)
Learn the basics of glider flying in this one day course.
Please note that in the season 2023 there is hardly or no availability anymore
Introduction
Learn the basics of gliding with this one-day course. During this introduction day you will fly 3 times under the guidance of an experienced instructor.
What will you do?
Your day starts in the morning with the briefing. This is how the gliding company always starts. The weather conditions, flight planning and all other relevant things for the day are discussed. Then you will get a short theory lesson from an instructor. You discuss the programme for the day and get ready for the inspection of the aircraft. You help with the preparations for the flight day.
After the inspection you get into the plane together and your first take-off starts. With a winch you will be pulled up far above the landscape. With your hands loosely on the control stick and your feet on the pedals, you will feel what the instructor is doing. From there, the difficulty is built up step by step. You will be flying more and more yourself. Of course, everything goes at a pace that you feel comfortable with. It is very quiet in a glider, so you can hear the instructor well while he tells you more about flying and the environment.
Between flights, there is plenty of time for all your questions. Before each flight there is a briefing and after each flight a debriefing. In addition, you will discover the club life of the gliding club and find out if this world is something for you. Who knows, this might be a nice step towards a multi-day course or even the complete training to become a glider pilot?
At the end of the afternoon your day is over. With the instructor you discuss the day and there is ample opportunity to ask all your questions. If you like, you can stay and chat with the rest of the crew afterwards. It's pleasant and you will notice that there is always an abundance of good stories.
Location
The course will be given at the Salland airfield, near Lemelerveld. This is located just east of Zwolle, near Dalfsen. Salland is a popular field for glider pilots from all over the country. From Salland you fly on the east side of the river IJssel, above the Overijssel landscape with a beautiful view over the Vechtdal. The Lemelerberg is nearby and towards the south you can see the Holterberg on a clear day. At the bottom of this page you will find a map with the location.
During the course you will not only discover how much fun it is to fly yourself in a glider, but also how sociable the team is. You might not expect it, but gliding is a real team sport. You'll be surprised how many people are needed to make you glide. Apart from your instructor, you will need a tip runner, a cable runner and a winch runner to get your plane in the air and safely guide it back in.
Included

3 winchstarts with instructor
extensive support

Multi-day courses and the full training course
The courses are a good introduction to learning gliding. Multi-day courses and full training are also available. Here, the lessons count towards the hours required for your licence. You will then start working to get your LAPL(S); Light Aircraft Pilot Licence Sailplane. This allows you to fly solo in a glider. This allows you to fly in the whole of Europe. Would you like to know more about the multi-day courses or getting your LAPL(S)? Ask us about the possibilities.
Specifications
Spoken languages
This experience is available in these languages.
Persons
1
Season

April to september

Only available during in its season. Please check the validity of your voucher.
Age
From 14 on
Max. length
2.00 m
Maximum height of the participant
Max. weight
100 kg
Maximum weight of the student, including clothes. For safety.
Participation
Flying lesson
How you participate: is it a flying lesson or do you fly along.
Time
Flight Time
Indicates whether the time periods listed are block times or flight times. Flight time is the time in the air. Block time means from engine on to engine off, thus including taxiing.
Valid for
2 years
How long the voucher is valid after issue. Dit geldt alleen voor nieuwe bonnen.
Compare
Remarks
Gliding is seasonal and has limited capacity. So book well in advance
We can only fly when there is sufficient visibility and not too much wind
Call the planner the day before your lesson if we can fly safely. You will receive the number with your reservation
If the weather changes during the course day, you can complete the remaining flights at a later time
The voucher is not personal but once the course has started it is no longer possible to change students
The program starts at 9.15 am and lasts until approximately 5 pm
The course can also be given in English
Dogs are allowed on the premises, but must remain leashed
Don't see availability for next year yet? That's because available days are always determined at the beginning of the year. Usually around February/March
Reviews
| | | |
| --- | --- | --- |
| 5 stars | | 93 |
| 4 stars | | 7 |
| 3 stars | | 4 |
| 2 stars | | 1 |
| 1 star | | 0 |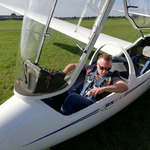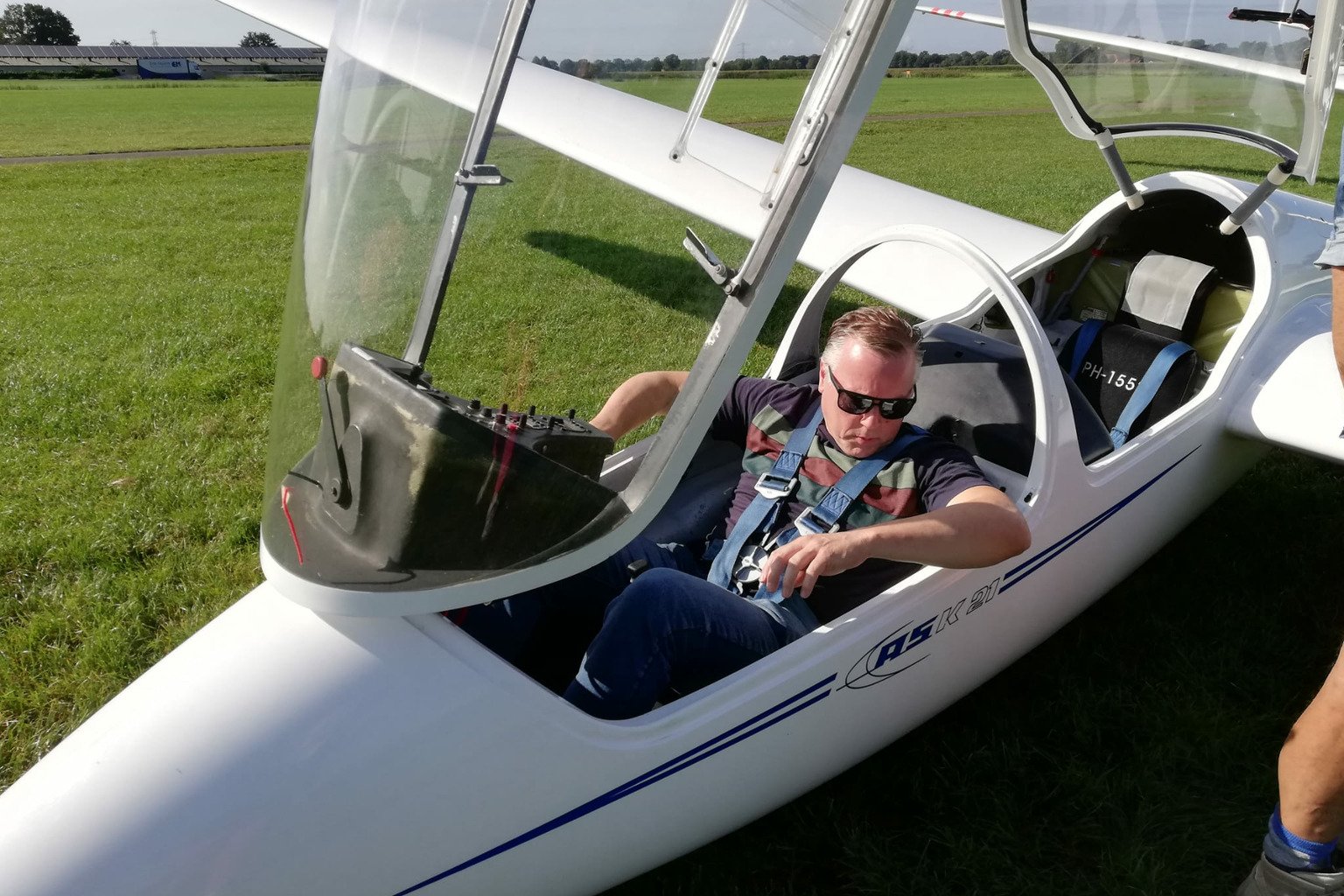 Ritsema
Hasselt overijssel
· September 2023
Was een mooie ervaring, geweldige manier om kennis te maken met zweefvliegen
Het ervaren van zweven als een vogel
Was a nice experience, great way to get acquainted with gliding
Experiencing gliding like a bird

.
Translated from dutch.
View original
· September 2023
Leuke dag gehad met de dagcursus zweefvliegen. Het weer was slecht, bijna geen thermiek. Echter wel leuk geweest en bij grote uitzondering(!) kregen we 4 starts in plaats van 3. Leuke extra.
Super ervaring met Joeri, een goede instructeur. Goede uitleg en de vlieg ervaring zelf was top!

Begin van de dag was goed met introductie en dan het vliegen, maar het was wat onduidelijk wanneer het klaar was. We wachten op een soort debriefing, maar kregen later te horen dat we niet hoeven te wachten. Dat was niet heel duidelijk, maar miniem puntje. Het was namelijk wel gezellig zitten met een aantal leden.
Fun day had with the day course gliding. Weather was bad, almost no thermals. However, it was fun and by a great exception(!) we got 4 takeoffs instead of 3. Nice extra.
Super experience with Joeri, a good instructor. Good explanations and the flying experience itself was top!

Beginning of the day was good with introduction and then flying, but it was a bit unclear when it was finished. We waited for some kind of debriefing, but were later told not to wait. That was not very clear, but minor point. In fact, it was cosy sitting with some members.
Translated from dutch.
View original
· September 2023
Heel leuk om mee te maken. Gastvrije ontvangst, goede begeleiding en informatie.
Great fun to experience. Hospitable welcome, good guidance and information.
Translated from dutch.
View original
· August 2023
Geweldig
Alles, vooral de ervaring om dit mee te maken.
Great
Everything, especially the experience of going through this.

Everything.
Translated from dutch.
View original
· August 2023
Hele leuke dag gehad, prima vrolijke en kundige instructeurs en overige leden met passie voor het (zweef)vliegen
De eerste keer opstijgen, letterlijk een lancering, heel gaaf !

Geen
Very nice day, great cheerful and knowledgeable instructors and other members with passion for (gliding) flying
First take-off, literally a launch, very cool!
Translated from dutch.
View original
· July 2023
Fantastisch, uitermate professioneel, maar daarnaast ook flexibel en een goede ambiance.
Van de welkomst, ( we konden ontbijten, mee lunchen, zelfs avondeten, slapen op de minicamping) tot de briefing en de vluchten.

Het weer, regende soms ;(
Fantastic, extremely professional, but also flexible and a good ambiance.
From the welcome, (we could have breakfast, join in lunch, even dinner, sleep on the mini-campsite) to the briefing and flights.

The weather, rained sometimes ;(
Translated from dutch.
View original
4.8 (105)
Learn the basics of glider flying in this one day course.
No experience needed

29,015 bought

Specialist in flying lessons

English speaking instructors